Scrooge the musical
Will be Performed at Kinneksbond
on
| Thu 9th Nov 2017 20:00 | Fri 10th Nov 2017 20:00 | Sat 11th Nov 2017 15:00 | Sat 11th Nov 2017 20:00 | Sun 12th Nov 2017 15:00 |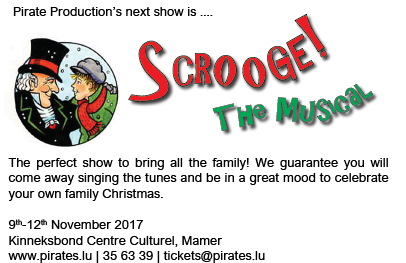 The box office will open on July 1st 2017
Scrooge! is a musical version of Charles Dickens' A Christmas Carol. The production is almost fully cast however, the director would be interested to hear from an adult male who woul be prepared to take a minor speaking role and also to be in the chorus.
Rehearsals have started but we are looking for people to help back stage and with building items of set / large props.

Please contact scrooge@pirates.lu