Who We Are
Pirate Productions a.s.b.l. is an English-speaking musical theatre group based in Luxembourg. We are open to people of any age, nationality and level of experience in the theatre (including none). English does not need to be your mother tongue for you to join us. We are always happy to see new members who wish to perform. Anyone willing to join on the production side is especially welcome, i.e. helping with backstage, sound, lights, costumes, set building etc.
We produce one or two shows a year on average, depending on the availability of directors with inspiration and the cast and crew to support them. The club had its roots in Gilbert and Sullivan, which we have not completely abandoned, but right from its earliest days over 30 years ago the repertoire has extended to many different kinds of musical theatre. This has included pantomime, music hall and review shows as well as famous shows such as La Cage aux Folles, Fiddler on the Roof, Throughly Modern Millie and Calamity Jane. We have frequent social events, such as our BBQs, nights-out-in-town and a Christmas party.
Becoming a Pirate

Joining the club means you'll receive communications with details of all club activities, auditions etc as well as a password to access the members area on this website. You're also supporting the club and you get your vote in all club matters. Most importantly, you have to be a member to be involved in a show or workshop, as only members are covered by Pirates' insurance.
2018/19 subscription rates are as follows:
Single €25
Family €40
Student €10
The appropriate amount should be paid by virement to: BIL - LU51 0022 1561 0680 0000
Pirate Productions asbl, mentioning "Subscription 2018/19", your name and the class of subscription required. Then you need to complete this form.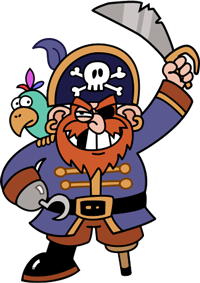 Then What
We don't have regular meetings, apart from show-related activities we have the occasional workshop, social event and the AGM. For information about what's going on check this web site.
When a new show is coming up we will normally email a request for production team members and there's always an open audition notice, also by email and available on this website. When shows are imminent we then need volunteers for jobs such as crew, front of house and bar which can be a good way to make a first contact with the club. The director or producer's contact can normally be found here on the web site - or the committee can put you in touch, and you can find out what's needed.
Be prepared that due to show lead times, it may be a good few months from your first showing an interest to there being any way for you to get actively involved. Please don't forget us, but if you're too keen to wait you could see what our friends at New World Theatre Club are up to.
If you send a request for information and get no reply, or if you join and don't get a newsletter this is no way intentional. The committee do make mistakes or disappear on holiday, or there can sometimes be technical hitches with email.
If there is a problem please don't imagine you're not welcome - please forgive us and try again. Trying another email might be a good idea.