Diary of Events
February-2019
Audition for Melusina the Pantomime (Adults)
Sunday 17th Feb at 14:00
Audition for Melusina the Pantomime (Children)
Sunday 24th Feb at 15:00
New World Theatre Club: The Seagull by Anton Chekhov
Thu 28th Feb at 20:00, Fri 1st March at 20:00, Sat 2nd March at 20:00, Sun 3rd March at 17:00
directed by John Brigg
Tickets
Adults 20€
Reduced price (Students) 10€
NWTC members will get a 2€ voucher for the bar
Booking at Luxembourg Ticket (click here)
or directly via the venue:
Venue
Mersch Kulturhaus box office, 53 r. Grande-Duchesse Charlotte, 7520 Mersch, Luxembourg,
telephone 26 32 43 1
e mail info@kulturhaus.lu or admin@kulturhaus.lu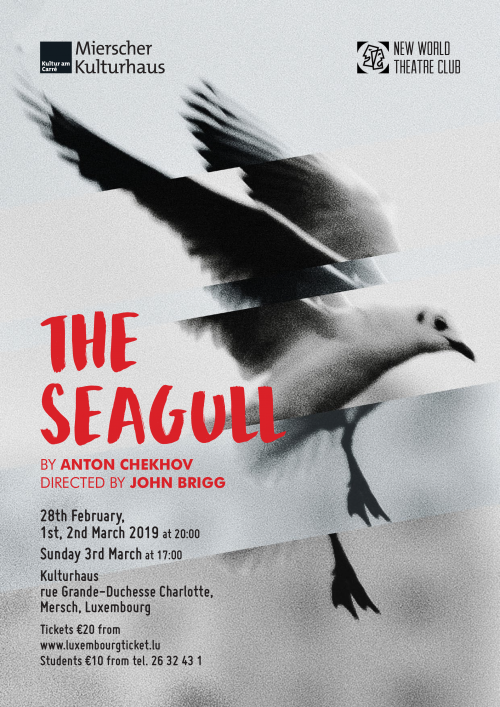 Location: Kulturhaus Mersch (53 rue Grande-Duchesse Charlotte, Mersch, L-7520)
March-2019
Sunflower Charity Auction
Sat March 3rd 7pm
In aid of Ilula Orphan Programme
Aperitif, 3 course meal and free tombola ticket
45 eur with 10 eur donation to IOP
Booking: sam@sunflower.lu
Location: Osteria Del Bivio, Schuttrange
Lie of the Land
Monday 11th March
Directed by Phil Knight, this is a piece exploring the lies, consequences and pain of Brexit
The New World Theatre Club (NWTC) has announced a Call for Auditions for a play "Lie of the Land", a play exploring the lies, the consequences and the pain of Brexit.
"Lie of the Land" is to be performed on Monday 11 March 2019 at St George's School in Luxembourg-Hamm.
Audition Call
Professional director, Phil Knight, is coming to Luxembourg to direct "Lie of the Land". Rehearsals will be over two weekends, 2-3 March and 9-10 March.
Having staged the play in the UK, the director is keen to tweak it and give it a British in Europe (BiE) perspective using improvisation. He is looking for a dozen people to participate - no previous acting experience necessary, but it would a huge advantage of course.
Those interested are requested to bring your ideas, your anger, your hopes! This cathartic play changes almost daily to keep up with events...
To audition, contact Chris Mitchell by email: lotl@pt.lu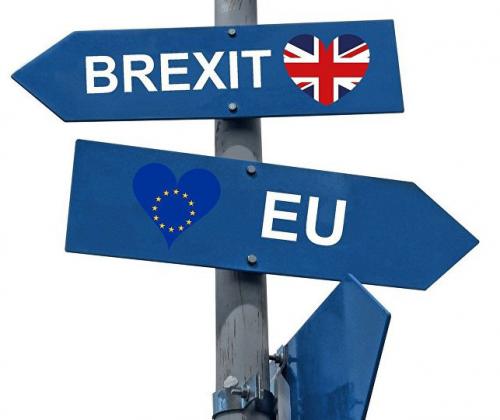 Location: St George's School International School (11, rue des Peupliers , Hamm, L-2328 )
April-2019
Scrooge Video Night
Friday 26th at 19:30
Following the success of the Oliver! video showing, we have organised another evening this time for Scrooge.
The video will start at 19:30 but the doors will be open earlier if you would like to come early for a drink.
This event is being hosted by LEAPA and they have asked us to provide a list of attendees (because of security at the door)
If you follow this link, you can sign up to attend and also order copies of the video (DVD or USB stick)
Location: Foyer Européen (10 rue Heinrich Heine, Luxembourg-Centre, L-1729)
May-2019
NWTC The Ripple Effect
Thu16, Fri 17 & Sat19 May at 20:00
The beginning of the end.. or the end at the beginning.....
Directed by Valerie Scott and Chris WIlson, this play will be performed over 3 nights and also be NWTC's entry to FEATS2019 in Munich.
Ticket information will be available very soon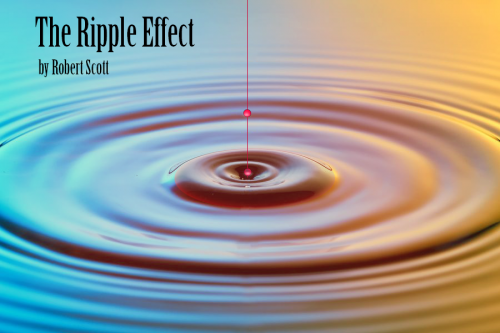 Location: Altrimenti (Centre Convict 5 avenue Marie-Thérèse, Luxembourg, L-2132)
FEATS 2019
30th May - 2nd June
FEATS 2019 will be hosted by Entity Theatre Munch
Location: Wolf-Ferrari-Haus Rathausplatz 2 85521 Ottobrunn
June-2019
Pirates 40th Anniversary
June 15th 7pm
A Gala Dinner evening with Entertainment - to celebrate our 40th Anniversary
Tickets
Tickets include a welcome aperitif, three course dinner and drinks (until midnight).

Pirates current members (Paid-up and Honorary) €55.00
Pirates Associates (Friends, Members of HMS, other Musicians who have played
for Pirates shows)

€60.00

Pirates Ex-members who will be travelling from overseas for this event

€55.00

Non Members

€65.00
Tickets will go on sale towards the end of February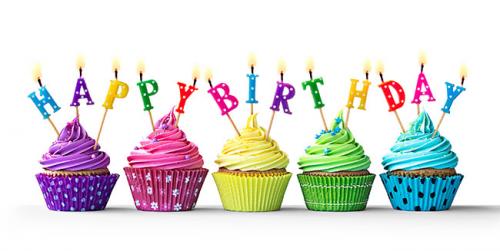 Location: Hotel Parc Alvisse
November-2019
Melusina the Pantomime*
Thu, Fri & Sat at 19:30 plus Sat, Sun at 14:30
Fun for all the family as we re-tell the Story of Luxembourg's Melusina with a few twists and lots of jokes.
*For those not familiar with the British Pantomime tradition, this is a show with talking, songs, dancing and audience participation - especially from children is not only welcomed but required.
Location: Centre Culturel Kinneksbond - Marmer